Shedding light on
See all "Shedding light on"
Cytokine assays
Cytokines play a major role in immune responses, inflammation, wound healing and haemopoiesis. They are involved in the physiopathology of auto-immune disorders, as well as infectious, allergic and cancerous diseases. They are therapeutic targets that are being developed and are attracting much research interest.
For clinical testing, we offer assays of the main cytokines: Interleukin-1α, interleukin-1β, interleukin-2, interleukin-4, interleukin-6, interleukin-8, interleukin-10, the vascular endothelial growth factor (VEGF), interferon γ, epidermal growth factor (EGF), monocyte chemoattractant protein-1 (MCP-1) and TNFα.
As of 1 October 2018, these assays are also available for medical pathology labs, where they are useful in creating prognoses and in treatment follow-up.
Cytokines and immune response
In the immune response, antigen-presenting cells activate the CD4 lymphocytes, in particular, via interleukins (IL) 1 and 12.
The activated lymphocytes secrete IL 2 and are divided into type 1 (Th1) and type 2 (Th2) helper T-cells.
The Th1 pathway produces mainly IL2 and IL 12, interferon γ (IFNγ) and TNFα, responsible for cell-mediated immunity, which is the main method for the elimination of cells infected by viruses; on the other hand, tumour cells are eliminated and allogeneic transplants rejected via cytotoxic T lymphocytes. The cytokines that inhibit this process are IL 4 and IL 10. (Diagram 1)
The Th2 pathway produces IL 4 and IL 5, responsible for humoral immunity. Cytokines play an essential role in the production of antibodies. IL 2, IL 4, IL 5 and IL 10 facilitate the cooperation between the B and T lymphocytes. IL 6 and IL 10 are involved in the secretion of antibodies. IFNγ inhibits the production of IgE.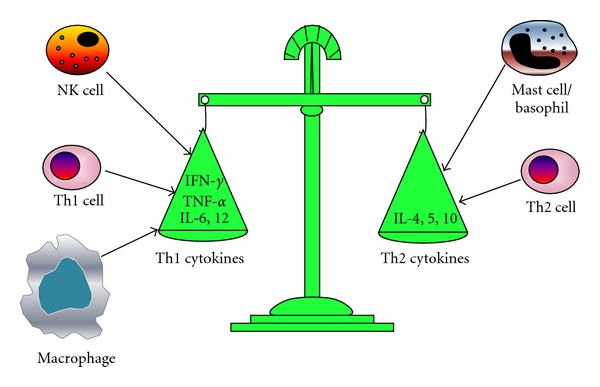 Diagram 1: Th1 / Th2 balance
Cytokines and inflammation
While IL 1 and TNFα have both major local and systemic anti-inflammatory effects, the action of IL 6 is predominantly systemic. Fibrosis occurs after an inflammatory reaction and allows scaring but at the price of adverse sequellae. IL 10 is the main anti-inflammatory cytokine. IFNγ induces the production of pro-inflammatory cytokines and has anti-fibrotic properties. IL 4 and IL 10 suppress the production of pro-inflammatory cytokines and induce fibrosis.
Cytokines, auto-immune diseases and allergies
In rheumatoid arthritis and Crohn's disease, TNFα and IL 1 levels are elevated and have a harmful effect. IL 10 is unable to control TNFα on its own. Biopharmaceuticals (anti-TNFα, anti-IL-6 and anti-IL1) have been successfully used in second-line treatment of rheumatoid arthritis, chronic intestinal inflammatory diseases (Crohn's disease and haemorrhagic rectocolitis), spondyloarthritis and skin psoriasis.
Elevated CSF levels of TNFα are a marker of relapse or disease progression in multiple sclerosis
An increase in concentrations of TNFα in CSF is a marker for multiple sclerosis relapse or progression.
IL 4 and IL 13 induce the production of IgE, while IFNγ inhibits it. IL4, IL5 and IL13 levels rise with allergies and asthma.
Cytokines and infections
Following an infection, there is normally an immediate, transient inflammatory response. The intensity of this reaction depends on the production of pro-inflammatory and anti-inflammatory cytokines (Diagram 1). However, acute or chronic disorders may occur. During septic shock, the concentrations of a number of cytokines in the blood rise, correlated in the case of ILI 6 and TNFα levels with the severity of the shock.
IFNα is used in the treatment of viral hepatitis.
Assay methods
Pre-analytics: 1 mL of serum, decanted and frozen quickly. Haemolysed and lipemic samples are not permitted.
Technique: The high sensitivity Randox test is a sandwich chemiluminescence immunoassay.
Maximum turnaround time: 15 days
---
References
Détection/dosage des cytokines et de leurs récepteurs. Méthodes en immunologie, ASSIM ; 2014 Elsevier Masson SAS.
Dosage des cytokines Dr. Filomena Conti ; service de chirurgie, hôpi tal Cochin, 75769 Paris cedex 14 France – EM Premium
Cytokines et inflammation : physiologie, physiopathologie et utilisation thérapeutique. M. Noack et M-N Kolopp-Sarda ; RFL n° 499, février 2018
Le TNFα, l'interleukine-6 et l'interleukine-1 : trois cytokines centrales de la polyarthrite rhumatoïde. Cantagrel et al. Revue du rhumatisme monographies 84 (2017) 325-330
---