International Presence
Eurofins Biomnis is a european leader in specialised medical pathology with :
Two specialised sites in France :

Paris (Ivry-sur-Seine) : treatment of large-volume specialised tests on an autolab platform
Lyon (Gerland) : treatment of highly specialised requests, requiring specific expertise (genetics, oncology, infectious diseases, genetic fingerprinting…)

International clients in over 40 countries
A specialised, clinical reference laboratory in Dublin, Eurofins Biomnis Ireland
Eurofins Biomnis serves hospitals, medical centres, public and private laboratories, pharmaceutical companies and clinical trial centres on a global scale and is particularly well established in the Middle-East, Europe and Asia.
The International Division of Eurofins Biomnis is organised in such a way as to optimise and ensure the best service levels to our International clients. It provides a remote and highly responsive customer support through a single point of contact for each client and will cater for all of your patient's requirements including: preanalytical advice, local, technical and logistical support as and when required, test information and post-analytical provision of clinical advice, through Eurofins Biomnis' network of 45 expert clinical pathologists.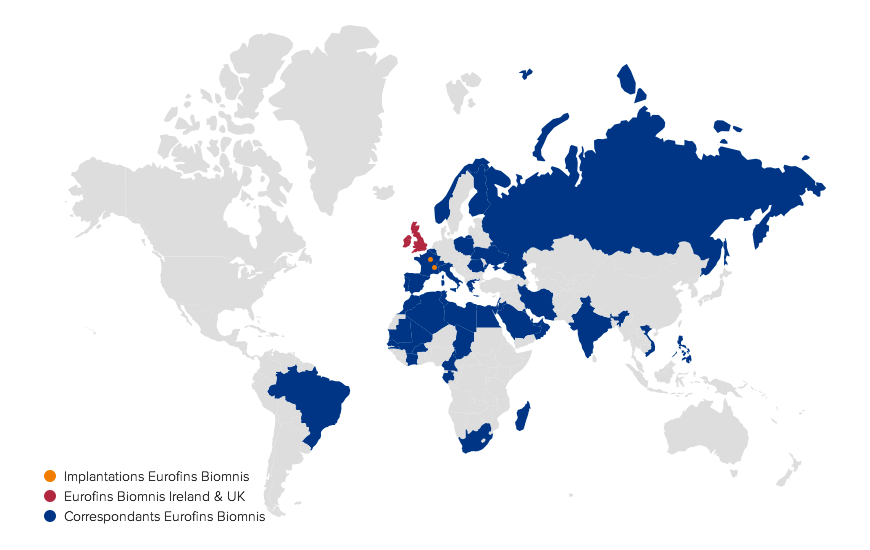 Eurofins Biomnis International
International Division
Monday – Friday :
8.30 am – 6.30 pm (GMT + 1)
Saturday :
9.00 am – 12.00 pm (GMT + 1)
T. +33 4 72 80 23 85
F. +33 4 72 80 73 56
serviceexport@eurofins-biomnis.com
Contact Eurofins Biomnis UK
Business Development Manager
Adrian Appleby
T. +33 4 72 80 23 85
F. +33 4 72 80 73 56
serviceexport@eurofins-biomnis.com
---
Contact Eurofins Biomnis Ireland
Commercial department
T. + 35 3 1 295 85 45
F. + 35 3 1 295 85 50
sales@biomnis.ie